"The lights, the music, the stage, and the crowd – putting it all together – magic in the making."
– Nina Flowers
Anyone who has watched a stage performance or taken part in a theatre production will know that apart from performers, there are a lot of components that make a show memorable. A show's set, crew, music, and lighting all play essential roles in a stage performance. Because so much time, effort, and money are at stake, production and event managers use quality effects and create a stunning set display to grab the audience's attention. However, to accomplish this, they need the assistance of electronics and light manufacturing companies like Grace Stage Lighting, which specializes in LED moving heads, battery-operated LED stage lights, LED par lights, LED profile lights, LED retro lights, cob LED blinder lights, laser lights, stage FX products such as cold spark machines, CO2 jet machines, confetti machines, foam machines, and other stage equipment.
Stage lighting is one of the significant aspects of a stage performance; without it, all the efforts of production to deliver a convincing performance would go in vain. Not only is the design of the stage lighting important for illuminating the stage, but it can also act as a powerful tool to show emotion. Without proper stage lighting and effects, the performance won't be able to fully convey certain feelings, like fear, suspense, rage, and love. Stage lighting is no longer a matter of simple illumination as it was during the 1900s.In recent times, stage light manufacturing companies and designers have strived to become masters of psychology, science, and art to paint the stage with illumination that moves the viewers on an emotional level.
Professional stage lighting manufacturers likeGrace Stage Lighting can assist the event management and production. They not only provide them with high-power lights but also utilize them in such a manner that they add an extra element to a performance. Grace Stage Lighting strives to provide high-quality stage lighting products and designs for stage performances, opera, ballet, live concerts, events, arenas, stadiums, commercial showrooms, and shopping malls.
Grace Stage Lighting products tie together a stage performance's visual elements, such as color, intensity, direction, movement, and form, to elevate a show or performance to a new level and make creative imagination a reality.Theatrical productions, music performances, award functions, and commercial shows all benefit significantly from the animation and drama that stage lights provide.
Grace Stage Lighting, also known as Foshan Grace Lighting Equipment Co., Ltd, is a well-known manufacturer of stage lighting fixtures. Grace Stage Lighting has developed into a value-added stage lighting manufacturer, equipment provider, and support team for its prestigious clients, thanks to its more than ten years of innovation and experience in the field of manufacturing. As one of the industry's leading stage light, appliance, and electronics manufacturers and suppliers, Grace Stage Lighting continues to take pride in its extraordinary ability to adapt to the ever-evolving industry.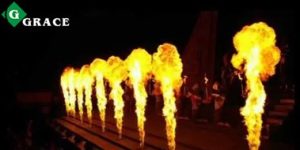 The stage lighting equipment manufactured by Grace Stage Lighting is used at prominent venues and events all across the globe. Over the past few years, stage lighting has become extremely complicated as the field of performing arts is getting more versatile and reliant on scene complementation. Grace Stage Lighting's decades-long collaborations with leading lighting designers worldwide have laid the foundation of a sensible interplay between luminaires and the stage.
Since its inception in 2009, Grace Stage Lighting has been committed to providing only rigorously engineered and innovatively designed products for scene composition, optimum visibility control, and mood creation. Even though its factory was established in 2009, the company became more popular during the COVID-19 pandemic when Doris Wang was appointed as the general manager. She not only revamped the company but also launched its official website the following year. Under her exemplary leadership, the company also launched a new brand, Igracelite, in 2022.
Grace Stage Lighting is a legally certified company, and its factory is located in Foshan City, Guangdong Province, China. To ensure smooth operations and quality products, the company has acquired a patent certificateandaCE certification. As the company exports to more than 90 countries, its products have been used in more than 8000 projects and are utilized by over 20,000 customers across the world.
By providing top-quality stage lights, electrical appliances, and equipment, Grace Stage Lighting has not only enhanced stage performances but has also cemented its place in the light manufacturing industry.