"In designing hardware to be used every day, it was important to keep both the human aspects and the machine in mind. What looks good also often feels good."
Michael Graves
Daily advancement and alteration in lifestyles around the globe have made societies develop a taste for interior design. As the general populace is driven towards innovative and modern ideas to renovate their residence, little do they focus on the hardware installed in their furniture and the significance of having quality hardware. There is a saying in the interior world that hardware is the jewelry of the room. Those sparkling knobs and shiny pulls can draw the eye and add a bit of bling to cabinetry, furniture, doors, and more. Furniture Hardware is referred to as the supporting pieces or products that complete a piece of furniture and supports the product by maintaining the design, pattern, outlook, and durability of the piece. Hardware is a streamlet from Biomechanics and Ergonomics. Most importantly, they supplement the ergonomic factor that improves and eases performance. This further helps in developing refined techniques and shapes that require relatively lesser strain to act, as it enhances the value of your furniture. Good furniture hardware accessories can make the use of the entire furniture product more convenient and bring more convenience to people's lives, expanding the durability of the house furniture. It is equally important to improve the hardware used rather than just blending good expensive furniture with poor hardware, as it may destroy the furniture. Hence one needs to focus on good hardware as it enhances the overall value of your furniture.
While not many understand the concept of quality hardware, companies tend to focus more on furniture rather than increasing awareness regarding high-end hardware products and their impact on the furniture. Companies like Foshan Aolisheng Hardware Co., Ltd, whose primary aim is to create a haven for individuals, should be appreciated for introducing admirable hardware products to go along with the perfect furniture. In November 2009, He Runping formed Foshan Aolisheng Hardware Co., Ltd, in Foshan, Guangdong, China which specializes in manufacturing high-end hardware, including heavy drawer slides, home improvement drawer slides, bottom drawer slides, and side drawer slides. It occupies a significant share of the industrial heavy-duty slide market. The products are widely used in multiple domains, including heavy industry, fire trucks, ships, precision machinery, and other fields. Over time the company's remarkable services have assisted it in delivering its services across the globe in various countries. Their products include a wide range of Heavy-Duty Drawer slides and Residential Drawer Slides.
The company's manufacturing plant is spread over 6000 square feet in Foshan and generates the largest output in China. Comprising a qualified team of 100 efficient personnel, 30 individuals in the engineering and research and development department, and 50 professionals in the sales team, the firm harbors employees with excellent skills in their respective areas, ultimately leading them to attain more sales with their policies.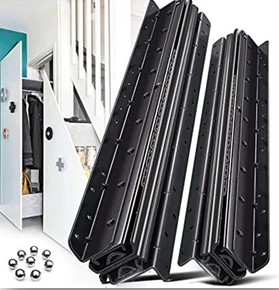 What makes them extraordinary in their area is the fact that the company holds several certifications, including an SGS certificate and innovative patents under its name. The production utilizes high-precision imported machinery and equipment from Germany, Taiwan, and Japan and manufactures articles after widespread research in the field of hardware. Due to this, Aolisheng Hardware has accomplished global multi-platform recognition, and its products are sold in multiple regions, such as Europe, Asia, Australia, and Africa. Their remarkable marketing strategy has enabled them to perform business virtually, establishing social networking system locally and internationally catering to international customers and leading to increased sales. Their dedication to satisfying customers with excellent quality, modern technology, and efficient service has helped the immense expansion of their business since its advent.