The eCommerce industry thrived significantly during the pandemic and has continued to grow even after the threat subsided. Fashion eCommerce has augmented due to digital innovation and changes in consumer behavior. Since the inception of the pandemic, consumers have been highly inclined towards online shopping, firstly because of necessity and secondly due to their own convenience. Their inclination toward convenient shopping did not end with the pandemic that contributed to the sharp increase in the size of online fashion shopping globally. The popularity of online fashion shopping among consumers can be gauged by the fact that 21% of total fashion retail sales are eCommerce transactions.
Despite the rapid expansion of the eCommerce fashion industry, it is really important for fashion companies to be versatile to keep up with the swift changes that occur in the industry. Fashion is cyclical in nature and requires companies to be adaptable and dynamic enough to address the altering demands of consumers. Fashion enthusiasts surely prefer online platforms that offer a variety of collections to them, thereby saving them from checking out different brands separately. One such brand, which has been established by considering consumers' preference for keeping up with the latest fashion trends and convenience, is StyleWe.

StyleWe is an online fashion brand that offers a variety of clothing, shoe wear, and accessories for women. It features multiple designers on a single platform, thereby making it a one-stop shopping experience for fashion geeks. It was established in 2015 by XingJian Yang and is headquartered in Guangzhou, China. It is a subsidiary of Beijing Xike Technology Co., Ltd and delivers original, exclusive, and high-quality fashion products from numerous independent designers to consumers' doorsteps.
StyleWe has taken the feature of providing convenience and ease to consumers to the next level. The presence of numerous independent designers and their collections on one platform provides consumers with an opportunity to get high-quality fashion products from one place instead of navigating multiple sites. It presents outstanding and trendy fashion products to consumers because of its immaculate production capabilities and exquisitely skilled fashion designers. It is also one of the first fashion platforms that has enabled and empowered fashion designers to proactively communicate with their consumers during the entire life cycle of products.
"Fashion and Clothing is the one that makes you look awesome and unique from others!
― Robert Phillip
Consumers can never face the dilemma of having limited options while searching for fashion solutions for themselves on StyleWe. The platform understands the desire of consumers to stand out from the crowd on every occasion ranging from formal events to special occasions. It is the perfect place that provides you with a huge collection of elegant statement pieces from designers across the world. The company is highly inclusive, which means that it does not cater to limited body types but rather has a collection for all body types, including plus-sized and curvy women. You get a wide range of products, including tops, dresses, bottoms, plus+curves, special occasions, swimwear, shoes, and accessories.
StyleWe has categorized all these products so that consumers can easily pick up the best fit for themselves. All the women out there need multiple options in each category so that they are able to choose according to their tastes and preferences. The company is aware of the demands of every particular demographic and therefore offers different types of products in each category. Tops and dresses are available in different designs and multiple styles, including urban, vacation, casual, and elegant. Various kinds of bottoms, such as jeans, shorts, pants, skirts, and jumpsuits in different fabrics, are also offered.
Additionally, StyleWe has launched a completely different category of clothes for plus-sized and curvy women so that they can freely choose their desired products without worrying about the availability of sizes. A separate category addressing the needs of women with different body types is a testament to the revolutionary and inclusive vision of the company. It provides a vast collection of outfits for special occasions in different cuts such as A-Line, sheath, tent, column, and mermaid. This collection is designed according to the festivities and intends to fuse greater joy to special occasions of consumers.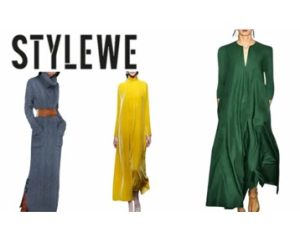 StyleWe provides a huge collection of swimwear, statement bags, elegant jewelry, and footwear to its consumers. The platform consists of all the products directly coming from designers present worldwide with bespoke designs, thereby enhancing both the fashion and convenience quotient for consumers. It is the perfect place that addresses the needs of consumers and delivers to them while simultaneously being a hub of independent fashion designers.