"Part of the inhumanity of the computer is that, once it is competently programmed and working smoothly, it is completely honest."
– Isaac Asimov

Technology is bliss, making our lives easier by providing us with information and knowledge at our fingertips. Technology has empowered us to form connections with the outside world. It boosts productivity along with the efficiency of human activities, as it allows us to perform tasks in less time. Meanwhile, one should highly appreciate the substantial amount of knowledge available, generating better calls with fewer chances of human errors. One of the most significant innovations in technology is computers, as their advent has totally changed the course of human life. Computers can be seen everywhere as they are now the essence of all sorts of organizations; their unprecedented processing power and capabilities have revolutionized various industries, such as communication, education, healthcare, and finance. Their capability to run things in a fastidious and smoother way outshines their performance leading to increased demand. They have also facilitated global connectivity, making the world a smaller place by connecting people from different corners of the globe in an instant. Overall, the evolution of computers has empowered mankind, making our lives more convenient, efficient, and enriched with opportunities for progress and innovation.As we continue to advance technologically, the significance of computers only grows, driving progress and shaping the future of humanity. Industries like ACEMAGICIAN have played a vital role in meeting the demands of the general populace by providing a diverse collection of computers.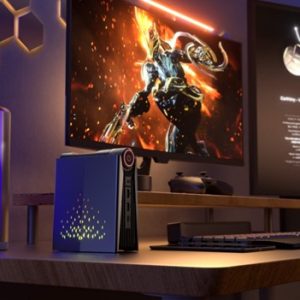 ACE MAGICIAN, also known as ACEMAGICIAN Mini-PC, is a privately held company that deals in design & developing mini-PC. It was formed by Kevin Dou in 2013 under the company Shenzhen Chuangtong Yi Gou Technology Co. Ltd. ACE MAGICIAN is a brand new mini PC that having its headquarters located in Shenzhen, China. ACE MAGICIAN's supremacy in offering a diverse collection of explicit mini-PC enables the general populace and corporations to explore the computing powers of these gadgets while they take a deep dive into the depths of technology. On the contrary, their feasible sizes facilitate organizations to get a hands-on better experience in minimal space. The brand functions with the slogan "Mini Space, Big World."
The central vision of the ACEMAGICIAN is to empower the life and work of human beings on the earth to be more creative by releasing maximum computing power through our compact and efficient computing solutions. Their Mini PC collection offers exclusive designs that are easy to install, small in size, and perfect for work or entertainment. The Mini PC series consists of the following models such as AD03 N95, AK1Pro, AM06, AM08Pro, AMR5, CK10, GK3V, T8Plus, and many more. ACE MAGICIAN's Mini PCs provide countless models with miscellaneous provisions, ensuring that there is something for every requirement, making it a perfect choice for gaming enthusiasts.
ACE MAGICIAN has a variety of products to offer, some of which are as follows:
AMR5
AM08 Pro
CK10
T8PLUS
AD03
AD15
AMD ® PROCESSORS
AMD Ryzen™5 5600U(AMR5) 5800U
AMD Ryzen 5 5600U/5800U
AMD Ryzen™ 7 3750H(AM02)
AMD Athlon 300U/Ryzen™ 3300U/3500U/3700U/3750H
AMD Ryzen™ 5 5600U (AM06 AM07 &PRO Series)
AM06 PRO AMD Ryzen 4800U 5600U 5500U 5625U 5560U
AMD Ryzen™ 9 6900HX(AM08PRO)
AMD Ryzen™ 9 Mobile Processors with Radeon™ Graphics
AMD Ryzen™ 7 5800H with RX6400(G1)
Discrete graphics cards like NTX1650
INTEL® CORE™ I5 PROCESSORS
i5-12450H(AD15)
Intel® Core™ i5-12450H Processor 12M Cache, up to 4.40 GHz
i5-1135G7/ i5-11320H/i7-11390H (TK11 series)
i5-8279U/i7-10810U/i7-10710U/i7-11390H (CK10- series)
i5-5257U(CK6)
i5-7200U(CK2-8+128)
INTEL® CORE™ I9 PROCESSORS
INTEL® CORE™ I7 PROCESSORS
i7-7500U(CK2-8+256)
i7-12650H (AD08)
Intel® Core™ i7-12650H Processor 24M Cache, up to 4.70 GHz
INTEL® PROCESSOR N-SERIES PRODUCTS, FORMERLY ALDER LAKE-N
Intel® Processor N95(AD03/AK1PLUS/GK3PLUS/T8PLUS/AX15 Laptop)
Intel® Processor N95 6M Cache, up to 3.40 GHz
Intel® Processor N100(AK2 PLUS)
Intel® Processor N100 6M Cache, up to 3.40 GHz
INTEL® CELERON® PROCESSOR N SERIES JASPER LAKE
N5105(AK1PRO)
N5105(GK3pro)
N5095(T8Pro)
INTEL® CELERON® PROCESSOR APOLLO LAKE
J3455(AK1)
J3455(AK2)
N3350(AK3)
INTEL® CELERON® PROCESSOR GEMINI LAKE
N5100(JK06)
J4125(T6Pro)
J4125(GK3)
INTEL® ATOM™ PROCESSOR-X5
Z8350(T5)
Z8350(T6)
Z8350(W8)
Z8350(T11)
NOTEBOOK AREA
Intel® Processor N95 Laptop(AX15)